Sticky Password Premium
is a
password manager software
that saves all
logins
/payment details in one centralized encrypted database and auto-fills for you when needed.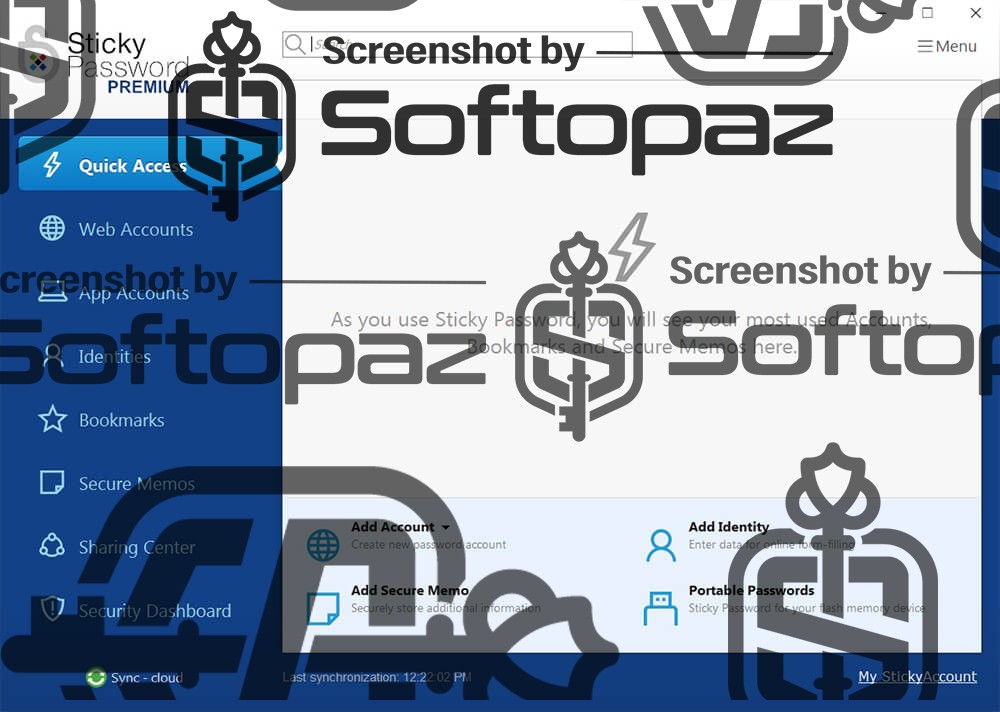 ?
Sticky Password Premium Overview
Details By Vendor
Product Name: Sticky Password Premium
Official Website:
https://www.ashampoo.com/
Supported Systems: Windows 11, 10, 8, 7
Sticky Password Premium remembers your usernames, passwords, payment info, and other sensitive information securely for you. It encrypts and locks all your information with one password. Whenever you need to sign into a website, enter payment details for checkout, or fill out a form with your details, it fills in the details for you with one click.
A password manager is a tool that locks all your sensitive information with one master password. To access your all information, only you need to remember one master password.
Q: Why do you need a Password Manager?
Creating one strong password and using it for all your accounts is not good for security. Creating many strong passwords and using them for your accounts is good, But remembering a lot of strong passwords is not easy for humans. This is why you need a password manager.
How to get started with Sticky Password Premium?
To use Sticky Password Premium on your computer, you need to add the Sticky Password extension to your browser first. The extension types your passwords for you when you log in to websites.
Read more
from here
to install the
Sticky Password
extension on your web browsers (for Windows)
Strong Password Generator
Sticky Password Premium can generate super strong passwords for you when you sign up for a new website. Its Cloud Sync & Backup feature lets you access your encrypted data across all your devices.
Dark Web Monitoring Functions
This password manager program comes with a Dark Web Monitoring function that monitors your credentials automatically against data breaches on Dark Web. You'll be alerted if any of your accounts are at risk.
Key Features of Sticky Password Premium
Automatic form filling and auto-login
Store your usernames, passwords and other sensitive data
Unlimited encrypted storage
Create super strong passwords
Protects your private notes and text
Military‑grade AES‑256 encryption
Saving credit cards details for the easy one‑click payment
Biometric authentication
Portable USB version (Windows)
giveaway vs paid
Full Version Comparison
You can activate Sticky Password Premium Edition legally in two ways. The first method is using a paid license key. Or you can try a giveaway license code to activate the Full version. There are some limitations/restrictions when you activate the full version using a giveaway license.
Sticky Password Premium
License Comparison
Use Full Features
Use full program features with no limitations/restrictions
Free Updates
Program will update automatically
Free Technical Support
They will provide extended priority support
Reactivate Anytime
If you format your pc, reactivate without any issue
To get rid of giveaway terms
Get Paid Version
Get Sticky Password Premium Genuine License Key with 85% Off
Buy the paid version from us with great price slashes to enjoy free updates and premium technical support from StickyPassword.com.

Latest Version
Lifetime License
Free Technical Support for 1 Year
When you click on the BUY NOW button, the price-reduction code will be activated automatically at the checkout page.
Steps to
Activate FREE License
Sticky Password Premium Giveaway License Coverage
| | |
| --- | --- |
| License Type | 1 Year License |
| Supported OS | Windows / macOS / Android / iOS |
Sticky Password Premium FREE Key Giveaway License Activation Steps
PLEASE FOLLOW THE EXACT STEPS BELOW
You may view the slider images for additional help.
Download the official installer using the below link
After completing the installation you have two options:
01. Create a new account
02. Sign in to your existing account
After signing in to your account
Go to "Menu" > "Help" > "About" and Click on "I have License Key"
Activate the program using the below giveaway code
DA00PR-C54DFD-E6484F
DA00PR-554DCB-E86879
DA00PR-D54DCB-1C0020
This is the
Editor's Giveaway Score
Good
After comparing Sticky Password Premium giveaway license vs paid version, our scores for this giveaway.
Positive
Use full features free without restrictions
Negatives
Cannot activate after ends the giveaway